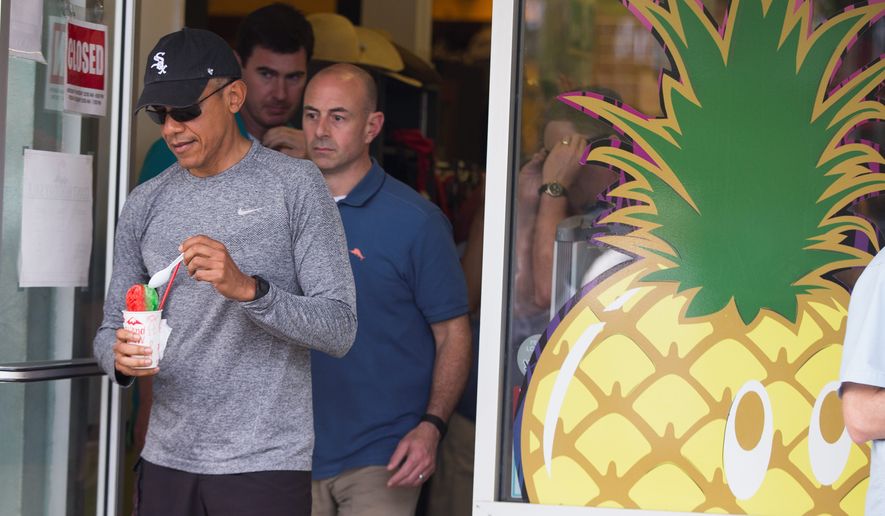 For the last time, taxpayers are paying for a Hawaiian Christmas vacation for President Obama and his family, an annual luxury getaway that has cost the Treasury easily more than $35 million over eight years.
Golfing on oceanside courses, dining at high-end restaurants and frolicking on stunning white-sand beaches where security guards keep other tourists at bay, the president and his family are in the midst of a 17-day holiday that requires dozens of Secret Service agents, military personnel and other government employees to guarantee their safety and ease of travel around Oahu.
The Obamas are once again renting a multimillion-dollar oceanfront home in Kailua, a town on the northeast side of the island where houses in the neighborhood fetch around $10 million. It's near golf courses and a Marine Corps base where the president goes for morning workouts at the gym.
One plantation-style house in Kailua touted online as the "Obama winter White House" is listed for sale for $8 million, featuring more than 7,000 square feet of interior space, 5.5 bathrooms, five bedrooms, a rock-walled pool and waterfall, three lanais (porches) and majestic ocean views.
The president's itinerary on Wednesday was typical — a workout at the gym followed by a motorcade trip to Bellows Beach.
"Bellows could hardly be more ideal, with a wide strip of mature pines edging up to a white sand beach," said a pool reporter chronicling the president's travels. "The water offers four distinct shades of aquamarine going out to what appears to be a reef, where white breakers form a boundary with a sapphire blue Pacific beyond."
The Obamas pay for the Kailua rental home themselves each year. Last year, their rented estate was priced at $5,000 to $10,000 per night, depending on the season.
Taxpayers foot the bill for nearly everything else.
The first family's Christmas vacation in 2015 cost taxpayers more than $4.8 million, according to the conservative watchdog group Judicial Watch, which obtained Secret Service records after filing Freedom of Information Act requests and a lawsuit. Multiply that cost by eight years, and taxpayers have paid in the range of $35 million to $40 million — at a minimum — for the first family's tropical vacations.
According to the organization's review of government records, the Secret Service spent more than $1.2 million on travel costs alone for the Obamas' Hawaii trip last year. The protective service's total included just over $1 million for hotel and lodging, with agents renting several Kailua homes for 19 nights at a cost of nearly $250,000, and rooms at the Ala Moana Hotel costing more than $671,000.
It could be tough for the average tourist to rent a car on Oahu when the Obamas are visiting. Last year, the Secret Service rented 103 cars from Alamo, Avis and Hertz at a total cost to taxpayers of $165,893.
Judicial Watch President Tom Fitton said Mr. Obama has taken too much advantage of the travel perks of his office.
"The Secret Service and the Air Force are being abused by unnecessary travel," Mr. Fitton said. "Unnecessary presidential travel for fundraising and luxury vacations on the taxpayers' dime would be a good target for reform for the incoming Trump administration."
Mr. Obama will mix in some business during his last Hawaiian vacation. On Tuesday, he will host Japanese Prime Minister Shinzo Abe for a visit to Pearl Harbor to honor the more than 2,000 U.S. service members killed by Japan's attack in December 1941, propelling the U.S. into World War II.
Mr. Abe wants to use the visit to send a message that the alliance between former foes Japan and the U.S. is solid. He was the first foreign head of state to meet with President-elect Donald Trump after the Nov. 8 election.
When Mr. Obama made a historic visit to Hiroshima, Japan, in May to visit the site of the world's first atomic bombing, Mr. Trump tweeted, "Does President Obama ever discuss the sneak attack on Pearl Harbor while he's in Japan? Thousands of American lives lost."
Mr. Abe will not apologize for the attack 75 years ago, saying his trip will be "a visit to soothe the souls of the victims. We should never repeat the ravages of the war."
Mr. Obama likewise didn't apologize for Hiroshima, although some in the U.S. viewed the visit itself as a symbolic apology.
The prime minister's visit to Pearl Harbor will "express the value of reconciliation between Japan and the United States," Chief Cabinet Secretary Yoshihide Suga said this month.
Mr. Obama and Mr. Abe also will hold their final summit in Hawaii before the president leaves office on Jan. 20.